Upcoming Events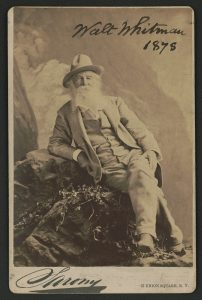 2023 Walt Whitman Birthday Celebration
The 2023 Birthday Celebration will be held on Wednesday, May 31, at 5pm in the garden of the Walt Whitman House at 328 Mickle/Martin Luther King Blvd. in Camden. The guest speaker this year will be Professor Tyler Hoffman, scholar of 19th- & 20th-Century American Literature and Culture, and the Chair of the Department of English at Rutgers Camden. Hoffman is the author of a number of titles, including Robert Frost and the Politics of Poetry (New England, 2001); Teaching with the Norton Anthology of Poetry (Norton, 2005); and American Poetry in Performance: From Walt Whitman to Hip Hop (University of Michigan Press, 2011). He will be speaking about the 150th anniversary of Whitman's move to Camden.
We are thrilled to announce the theme for this year's poetry contest is "home." Walt Whitman was a man who felt at home in the wide world. He wrote,
"Locations and times— what is it in me that meets them all, whenever and wherever, and makes me at home? / Forms, colors, densities, odors—what is it in me that corresponds with them?"
This year marks the 150th  anniversary of Whitman's move to Camden, NJ, his final home. His friend Horace Traubel reports Whitman saying, "Camden was originally an accident—but I shall never be sorry I was left over in Camden! It has brought me blessed returns. But Washington, New Orleans, Brooklyn—they are my cities of romance. They are the cities of things begun—this is the city of things finished."
Over the course of his life, Walt Whitman called many different American cities home. From Brooklyn, to Washington D.C., and finally to Camden, there were many places where the poet found that he could rest his head. But considering that he wouldn't own his own house until the last eight years of his life, it begs the question – how did Whitman define a home? One needs only to turn to his collection of poems to get an idea of what home meant to Walt. For this year's poetry contest prompt, we ask students to reflect on Whitman's words and on any of the following questions, to inspire poems that speak to their own ideas of home: How do you describe or imagine home? What distinguishes home from any other place? What is it like to leave home? and then to return?  
*If there are any questions about the celebration, please call the Walt Whitman House at (856) 964-5383.