Past Events
2019
Walt Whitman Association – 200th Birthday Celebration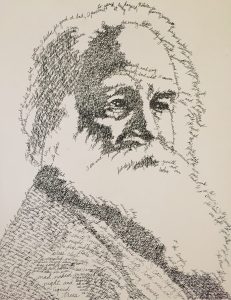 Image Credit: J. Sokol, 1980
May 29th, 2019
5pm-8pm
On May 29th the Walt Whitman Association will be ringing in the 200th birthday of Walt Whitman with our time-honored Annual Walt Whitman Birthday Celebration and the regional Walt Whitman High School Poetry Contest awards ceremony. This year's reception and recitation of the winning poems will be held at the Rutgers University-Camden Stedman Gallery, and guests will be joined by Walt himself, portrayed by historian Darrel Ford. The celebration begins at 5pm and will feature poetry readings, cake, and punch. This will also coincide with the opening of the Rutgers' exhibition Democratic Vistas: Whitman Body and Soul, a contemporary survey of art inspired by the Good Gray Poet. We look forward to seeing you there!
The City Of Camden Celebrates America's "Poet of Democracy" In Honor Of Walt Whitman's 200th Birthday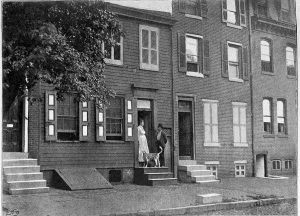 Image credit: Walt Whitman Association
Friday, May 31, 2019
10am
On May 31st the City of Camden along with the Walt Whitman House Historic Site will kick-off Walt Whitman's 200th Birthday Celebration in Camden, NJ.  The event will take place in front of Whitman's former home at 328 Mickle/Martin Luther King Jr. Blvd. and will celebrate the achievements of the world-renowned poet.  The program, which will focus on Whitman's time in Camden as well as the history of Camden in relation to the historic site, will include guest speakers, a poetry reading, and musical selections, along with a ceremonial proclamation presentation by Camden Mayor Frank Moran commemorating Whitman's 200th Birthday.
For more information, call the City of Camden at (856) 757-7200 or the Walt Whitman House (856) 964-5383
Visit us at www.ci.camden.nj.us orhttps://www.state.nj.us/dep/parksandforests/historic/whitman/index.html
Walt Whitman House Legacy Tours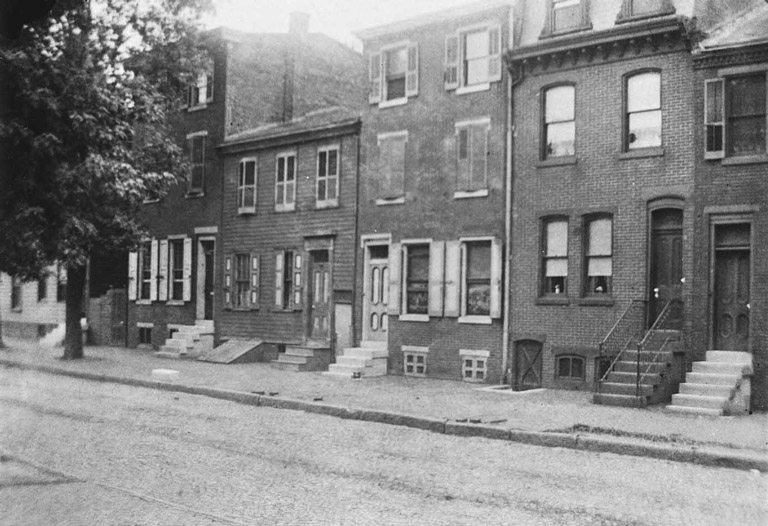 Whitman's House on Mickle Street, Camden, NJ, circa 1890. Library of Congress
May 22, 2019 – June 9, 2019
In the weeks surrounding the birthday, the Walt Whitman House Historic Site will be hosting special "Legacy" tours that focus on the work that Whitman created while living in Camden, as well as the history of Camden in relation to the historic site. The tours will explore his diary jottings in Specimen Days and his ruminations on the growth of America in With Walt Whitman in Camden by his biographer Horace Traubel. The compilation volume Specimen Days and Collect was assembled during his time in Camden, and illustrates Whitman's experiences and opinions of his life's work.
These special tours will be by appointment only, and we expect them to fill up quickly so we encourage those interested to call ahead to secure a spot on the tours. Tours will be held from 10:00am – 11:30am. Reservations can be made by calling(856) 964-5383.
Nothing Else but Miracles: Paul Stankard's Glasswork & the Spirit of Walt Whitman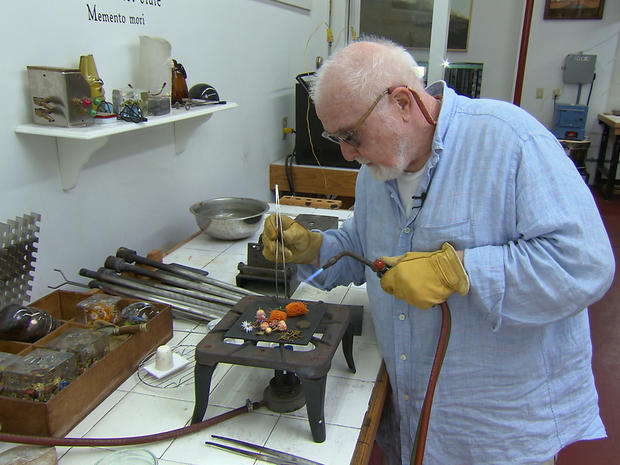 Glass artist, Paul Stankard, working in the studio
Tuesday, November 12, 6:00 pm
Stedman Gallery, Rutgers-Camden Center for the Arts
Join us for a special evening with internationally acclaimed artist, Paul Stankard. As a pioneer in the studio glass movement, Stankard is considered a living master in the art of the paperweight, and his work is represented in more than 60 museums around the world. This program, in conjunction with our current exhibition, Democratic Vistas: Whitman, Body and Soul, will include an intimate interview with the artist exploring his roots in glass as well as the influence of Walt Whitman's words and wisdom on his work. Experience the exhibition in the Stedman Gallery, and stay for a light reception after the presentation.
Moderated by Curator Dr. Tyler Hoffman
Democratic Vistas: Whitman Body and Soul
May 29, 2019 through December 7, 2019
Rutgers Camden will be hosting "Democratic Vistas: Whitman Body and Soul," a survey of contemporary art relating to the life and work of Walt Whitman. The exhibition will include work by a variety of artists from all over the country, including sculptor John Giannotti and glass artist Paul Stankard, reflecting on his view of a changing America and dreams for an egalitarian society. The opening of the exhibition and the annual birthday celebration will take place on May 29th at 5pm at the Rutgers Stedman gallery. We hope to see you all there!
How Sweet the Silent Backward Tracings! Preserving the Memory of America's Good Gray Poet Through Materials, Meetings, and More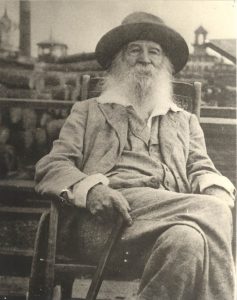 Image credit: Ohio Wesleyan University, Bayley Collection
Special Exhibit by the Mid-Atlantic Regional Center for the Humanities
Wednesday, May 1, 2019 through Saturday, July 13, 2019
The Memory of Walt Whitman lives on in the 21st century through various venues: annual celebrations, living history actors, academic journals, sculptures in his likeness, and more.  This exhibition, in conjunction with the 200th anniversary of Walt Whitman's birth, will examine the events, publications, artworks, and other forms of media through which the memory of the Good Gray Poet is immortalized – many of which take place right here in Camden.
Location: Paul Robeson Library, Rutgers University-Camden at 300 North 4th Street, Camden, NJ 08102
Opening Reception: Out of the Cradle Endlessly Rocking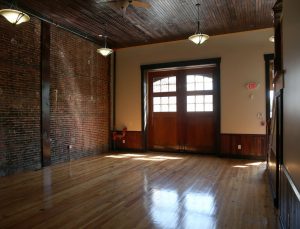 Image credit: Camden FireWorks Gallery
Exhibition at Camden FireWorks Gallery
Sunday, May 19, 2019
12pm-3pm
This exhibition of works by artist Joe Plageman features paintings depicting each line of Whitman's poem, "Out of the Cradle Endlessly Rocking" along with other works. The opening reception on May 19 will feature a live reading of the poem while viewing images of the corresponding paintings.
Location: Camden FireWorks Gallery at 1813 Broadway, Camden, New Jersey
2017
125th Anniversary Remembrance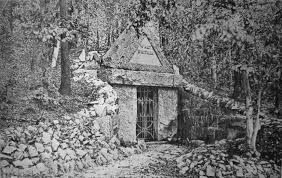 March 26, 2017 at 2:00 pm.  Location: Harleigh Cemetary, 1640 Haddon Ave, Camden, NJ 08103. Walt Whitman's Tomb.
It's hard to believe that Walt Whitman passed away 125 years ago on this date yet his legacy lives on in the hearts and minds of many!  All are welcome to come together to commemorate this nostalgic event with a special gathering led by long-time Camden poet and Whitman enthusiast, Rocky Wilson.  Feel free to bring your favorite Whitman poem along to share!
Birthday Celebration 2017
Come join us on May 23rd at 5:00 pm as we celebrate Walt Whitman's 198th birthday.  We'll be gathering at the historic home and garden of the poet at 328 Mickle Boulevard. The house will be open for tours, and the garden will be open for a reception, cake, and other goodies. This year's keynote speaker will be distinguished Philadelphia author, poet and journalist, Thom Nickels. Mr. Nickels has written eleven books and his poetry has been published in various collections (Check out this review of his book, Literary Philadelphia). He is the City Beat editor at ICON magazine and contributes regularly to the Huffington Post, Philadelphia Inquirer, Philadelphia City Paper, Philadelphia Daily News and Philadelphia's Spirit newspapers. He was nominated for a Lambda Literary Award and received the Philadelphia AIA Lewis Mumford Award for Architectural Journalism in 2005. There will also be readings from the winners of the Walt Whitman Association's Annual High School Poetry Contest.  The theme this year is "The Open Road."
*Please note: Due to possible rain in the forecast, seating for the event may be limited.
No admission charge.  Donations accepted.  No RSVP required. For more information about this time-honored event call: (856) 964-5383