2023 Walt Whitman Birthday Celebration
The 2023 Birthday Celebration will be held on Wednesday, May 31, at 5pm in the garden of the Walt Whitman House at 328 Mickle/Martin Luther King Blvd. in Camden. The guest speaker this year will be Professor Tyler Hoffman, scholar of 19th- & 20th-Century American Literature and Culture, and the Chair of the Department of English at Rutgers Camden. Hoffman is the author of a number of titles, including Robert Frost and the Politics of Poetry (New England, 2001); Teaching with the Norton Anthology of Poetry (Norton, 2005); and American Poetry in Performance: From Walt Whitman to Hip Hop (University of Michigan Press, 2011). He will be speaking about the 150th anniversary of Whitman's move to Camden.
We are thrilled to announce the theme for this year's poetry contest is "home." Walt Whitman was a man who felt at home in the wide world. He wrote,
"Locations and times— what is it in me that meets them all, whenever and wherever, and makes me at home? / Forms, colors, densities, odors—what is it in me that corresponds with them?"
This year marks the 150th  anniversary of Whitman's move to Camden, NJ, his final home. His friend Horace Traubel reports Whitman saying, "Camden was originally an accident—but I shall never be sorry I was left over in Camden! It has brought me blessed returns. But Washington, New Orleans, Brooklyn—they are my cities of romance. They are the cities of things begun—this is the city of things finished."
Over the course of his life, Walt Whitman called many different American cities home. From Brooklyn, to Washington D.C., and finally to Camden, there were many places where the poet found that he could rest his head. But considering that he wouldn't own his own house until the last eight years of his life, it begs the question – how did Whitman define a home? One needs only to turn to his collection of poems to get an idea of what home meant to Walt. For this year's poetry contest prompt, we ask students to reflect on Whitman's words and on any of the following questions, to inspire poems that speak to their own ideas of home: How do you describe or imagine home? What distinguishes home from any other place? What is it like to leave home? and then to return?  
*If there are any questions about the celebration, please call the Walt Whitman House at (856) 964-5383.
______________________________________________________________________________
Past Events
Camden County History Month Tours
October 2022
For Camden County History Month, the Walt Whitman House Historic Site, home of the "Good Gray Poet" will be hosting special "Walt Whitman's Camden" tours that focus on the work that Whitman created while living in Camden, as well as the history of Camden in relation to the historic site. The tours will explore his diary jottings in Specimen Days and his ruminations on the growth of America in Democratic Vistas. The compilation volume Specimen Days and Collect was assembled during Whitman's time in Camden and illustrates his experiences and opinions of his life's work as well as his thoughts on and travels throughout Camden County.  These special tours at 11 am and 2pm are on a first-come, first-served basis on Fridays and Saturdays in October.
Historic House Tours at 11am and 2pm, first-come, first-served basis. Note: tour size is limited
Friday 10/7, 10/14, 10/21, 10/28

Saturday 10/1, 10/8, 10/15, 10/22, 10/29
For more information call: (856) 964-5383
The garden at Whitman's Camden home
Come join us to celebrate springtime and Walt! We will be celebrating Walt Whitman's 203rd  birthday on Wednesday, May 25th, at 5pm in the garden of the Walt Whitman House at 328 Mickle/Martin Luther King Blvd. in Camden. This year's event will include the awards ceremony for the winners of the Annual High School Poetry Contest of the Walt Whitman Association, and feature event speaker Maya J. Sorini. Sorini is a poet and med student who creates poetry as a reflection of the trauma and healing that she observes in her medical practice. We are looking forward to welcoming Sorini to our celebration.
The theme for this year's poetry contest is "caring," a fitting subject as we come off of the heels of the COVID-19 pandemic. Walt Whitman was a caregiver in the 19th century, volunteering as a nurse during the Civil War and working closely with the sick and injured soldiers in hospitals around Virginia and Washington, D.C. He ruminates on the practice of care and connection in his poems, and was not shy about describing the war-torn scenes that unraveled in front of him. In "The Wound-Dresser," written in 1865 and published in the 1892 edition of Leaves of Grass, Whitman eloquently paints an image of the intimacy that care brought to an otherwise chaotic environment:
Bearing the bandages, water and sponge,
Straight and swift to my wounded I go,
Where they lie on the ground after the battle brought in,
Where their priceless blood reddens the grass the ground,
Or to the rows of the hospital tent, or under the roof'd hospital,
To the long rows of cots up and down each side I return,
To each and all one after another I draw near, not one do I miss,
An attendant follows holding a tray, he carries a refuse pail,
Soon to be fill'd with clotted rags and blood, emptied, and fill'd
again.
I onward go, I stop,
With hinged knees and steady hand to dress wounds,
I am firm with each, the pangs are sharp yet unavoidable,
One turns to me his appealing eyes—poor boy! I never knew
you,
Yet I think I could not refuse this moment to die for you, if that
would save you.
From The Wound Dresser, 1865 
Whitman's endless capacity for empathy is honorable, and his time spent in the Civil War hospital tents helped to shape some of his most impactful poetry. But his service is also a model for the present on the importance of reaching out and helping our neighbors and friends.
*If there are any questions about the celebration, please call the Walt Whitman House at (856) 964-5383.
Nothing Else but Miracles: Paul Stankard's Glasswork & the Spirit of Walt Whitman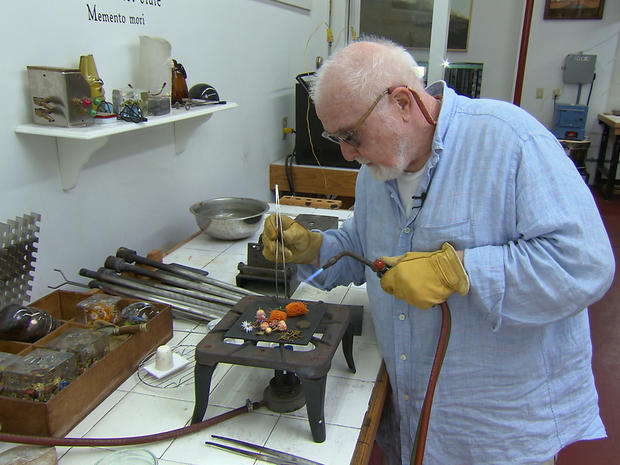 Glass artist, Paul Stankard, working in the studio
Tuesday, November 12, 6:00 pm
Stedman Gallery, Rutgers-Camden Center for the Arts
Join us for a special evening with internationally acclaimed artist, Paul Stankard. As a pioneer in the studio glass movement, Stankard is considered a living master in the art of the paperweight, and his work is represented in more than 60 museums around the world. This program, in conjunction with our current exhibition, Democratic Vistas: Whitman, Body and Soul, will include an intimate interview with the artist exploring his roots in glass as well as the influence of Walt Whitman's words and wisdom on his work. Experience the exhibition in the Stedman Gallery, and stay for a light reception after the presentation.
Moderated by Curator Dr. Tyler Hoffman
Democratic Vistas: Whitman Body and Soul
May 29, 2019 through December 7, 2019
Rutgers Camden will be hosting "Democratic Vistas: Whitman Body and Soul," a survey of contemporary art relating to the life and work of Walt Whitman. The exhibition will include work by a variety of artists from all over the country, including sculptor John Giannotti and glass artist Paul Stankard, reflecting on his view of a changing America and dreams for an egalitarian society. The opening of the exhibition and the annual birthday celebration will take place on May 29th at 5pm at the Rutgers Stedman gallery. We hope to see you all there!
Celebrate Walt Whitman: Meet the Artists Reception
Walt Whitman's Tomb with marker, illustration by John Giannotti; Walt Whitman's Garden Orb by Paul Stankard, 2018
Meet the artists whose creations celebrate the 200th anniversary of Walt Whitman's birth in the exhibition Democratic Vistas: Whitman, Body and Soul, currently on display at the Stedman Gallery. Light refreshments will be provided. For more information, contact Nancy Maguire. Sponsored by the Center for the Arts.
Center for the Arts, Fine Arts Complex
314 Linden Street, Camden
Saturday, September 28, 2019 – 2:00pm to 4:00pm
Whitman at 200 – Celebrating the Bicentennial of the Good Gray Poet
The Walt Whitman House Historic Site and the Walt Whitman Association are proud to announce that preparations are underway for the celebration of Walt Whitman's 200th birthday! We will be working in conjunction with Rutgers University, Camden County Historical Society, and The Whitman-Stafford House to create programming surrounding Whitman's life in Camden and the legacy he created while living in the house at 328 Mickle Street.
The Whitman House will be hosting events and special tours that focus on the work that Whitman created while living in Camden, as well as the history of Camden in relation to the historic site. We will also be hosting the celebration of Whitman's 200th year on the Camden Campus of Rutgers University on May 29th and in conjunction with Camden City, holding a special proclamation on May 31st out front of the historic house.  See below for more details.
Additionally, we are partnering with various organizations in Philadelphia and New York, including The University of Pennsylvania and the Walt Whitman Initiative in New York City. You can find out more about these programs at Whitman at 200 and Walt Whitman Initiative.
Walt Whitman Association – 200th Birthday Celebration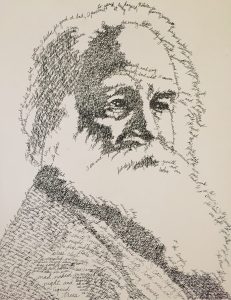 Image Credit: J. Sokol, 1980
May 29th, 2019
5pm-8pm
On May 29th the Walt Whitman Association will be ringing in the 200th birthday of Walt Whitman with our time-honored Annual Walt Whitman Birthday Celebration and the regional Walt Whitman High School Poetry Contest awards ceremony. This year's reception and recitation of the winning poems will be held at the Rutgers University-Camden Stedman Gallery, and guests will be joined by Walt himself, portrayed by historian Darrel Ford. The celebration begins at 5pm and will feature poetry readings, cake, and punch. This will also coincide with the opening of the Rutgers' exhibition Democratic Vistas: Whitman Body and Soul, a contemporary survey of art inspired by the Good Gray Poet. We look forward to seeing you there!
The City Of Camden Celebrates America's "Poet of Democracy" In Honor Of Walt Whitman's 200th Birthday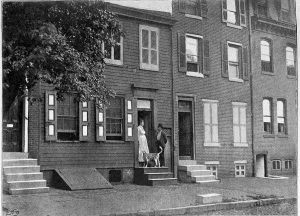 Image credit: Walt Whitman Association
Friday, May 31, 2019
10am
On May 31st the City of Camden along with the Walt Whitman House Historic Site will kick-off Walt Whitman's 200th Birthday Celebration in Camden, NJ.  The event will take place in front of Whitman's former home at 328 Mickle/Martin Luther King Jr. Blvd. and will celebrate the achievements of the world-renowned poet.  The program, which will focus on Whitman's time in Camden as well as the history of Camden in relation to the historic site, will include guest speakers, a poetry reading, and musical selections, along with a ceremonial proclamation presentation by Camden Mayor Frank Moran commemorating Whitman's 200th Birthday.
For more information, call the City of Camden at (856) 757-7200 or the Walt Whitman House (856) 964-5383
Visit us at www.ci.camden.nj.us orhttps://www.state.nj.us/dep/parksandforests/historic/whitman/index.html
Tours of the Walt Whitman House in Camden
Friday, May 31st
12pm-4pm
Join the Walt Whitman House in continuing the celebration following the birthday proclamation in Camden. The Whitman House will be offering walk through tours of the first floor of Whitman's Camden home from 12pm-4pm. Join us to view the home where Whitman spend his final years.
How Sweet the Silent Backward Tracings! Preserving the Memory of America's Good Gray Poet Through Materials, Meetings, and More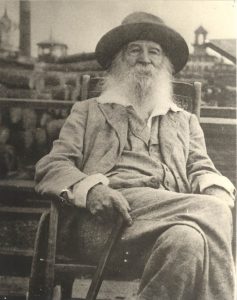 Image credit: Ohio Wesleyan University, Bayley Collection
Special Exhibit by the Mid-Atlantic Regional Center for the Humanities
Wednesday, May 1, 2019 through Saturday, July 13, 2019
The Memory of Walt Whitman lives on in the 21st century through various venues: annual celebrations, living history actors, academic journals, sculptures in his likeness, and more.  This exhibition, in conjunction with the 200th anniversary of Walt Whitman's birth, will examine the events, publications, artworks, and other forms of media through which the memory of the Good Gray Poet is immortalized – many of which take place right here in Camden.
Location: Paul Robeson Library, Rutgers University-Camden at 300 North 4th Street, Camden, NJ 08102
Opening Reception: Out of the Cradle Endlessly Rocking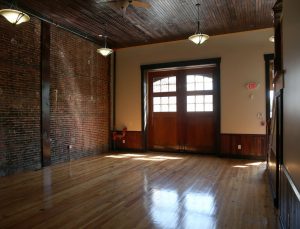 Image credit: Camden FireWorks Gallery
Exhibition at Camden FireWorks Gallery
Sunday, May 19, 2019
12pm-3pm
This exhibition of works by artist Joe Plageman features paintings depicting each line of Whitman's poem, "Out of the Cradle Endlessly Rocking" along with other works. The opening reception on May 19 will feature a live reading of the poem while viewing images of the corresponding paintings.
Location: Camden FireWorks Gallery at 1813 Broadway, Camden, New Jersey
Walt Whitman in the Civil War
On Monday April 1, 2019 there will be a special presentation by Joseph F. Wilson on Walt Whitman and his experiences during the Civil War. Though never participating in combat, Whitman contributed greatly to the war effort through his time visiting war hospitals and caring for wounded soldiers. Please join us to learn more about Whitman and the time he spent with the soldiers, and how both Whitman and the soldiers' lives changed through his contributions. The presentation will begin at 7pm in the Civic Center at Camden County Community College in Blackwood, NJ. There is no cost for this event, and we hope to see you there!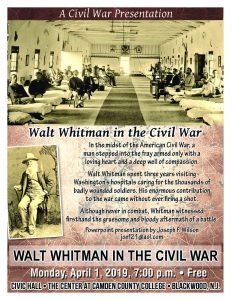 Walt Whitman: Poet of the Future Opening Program and Reception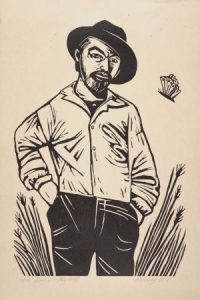 Image credit: Song of Myself, by Barbard Henry, linocut (2018)
Tuesday, March 26, 2019
6 pm–8 pm
The exhibition Poet of the Future will celebrate the bicentennial of the birth of Walt Whitman by sharing rare books and manuscripts from Rutgers University Libraries' collections. To mark the opening, Karen Karbiener, a Whitman scholar based at New York University, will talk about the portrait in the original edition of Leaves of Grass, and Barbara Henry, printer and poet, will talk about how Whitman's training as a printer influenced his work as a poet. The program will be followed by a reception.
Contact for RSVP: Fernanda Perrone  Email: hperrone@libraries.rutgers.edu   Phone: 848-932-6154
Location: Rutgers University-New Brunswick, Alexander Library, Scholarly Communication Center, 169 College Ave, New Brunswick, NJ 08901
Celebrating Whitman's Legacy – The 199th Birthday 
The Walt Whitman Association has been celebrating the life and legacy of the great poet, Walt Whitman for over 120 years with an annual birthday party in May at his home on Mickle Street (today's Mickle/Martin Luther King Jr. Boulevard). This year's celebration was held at the Walt Whitman House on May 30th at 5 pm, and featured the winners of the Walt Whitman Association's Annual High School Poetry Contest, who recited their winning entries. The theme for this year's Poetry Contest is "Looking to the Future." Students were invited to look forward, imagining a future that may pertain to themselves, their community, our nation, and/or humanity as a whole. Students were encouraged to review Whitman's musings on our shared humanity and future generations, including poems such as "Crossing Brooklyn Ferry," "Poems to Come," and "Song of Myself."
Our guest speaker this year was Camden City Mayor Francisco "Frank" Moran, who presented the Whitman House with a Proclamation of the 199th birthday from the City of Camden. It's an exciting time in Camden-thank you for coming out to celebrate Walt!
For more information on the celebration and the poetry contest, please visit our Poetry Contest page.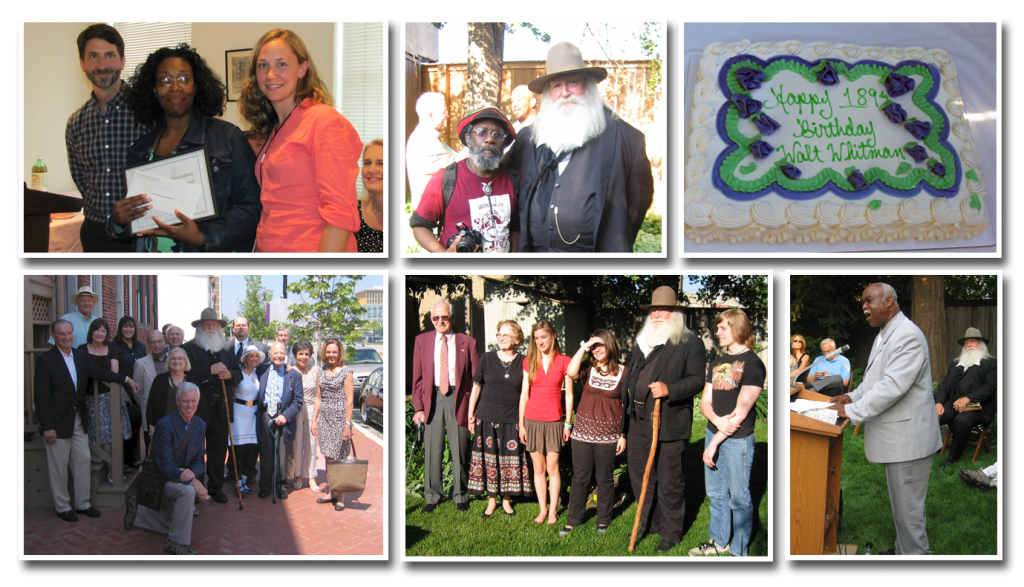 "WaltFEST" at Laurel Springs
Laurel Springs' Walt Whitman Festival, Saturday, June 2, 2018, 11 am – 3 pm.
Rain date –June 9, 2018.
Come experience where the Good Gray Poet wandered the banks of his beloved Timber Creek and enjoy the beauty of Laurel Springs!
The Stafford Farmhouse in Laurel Springs, New Jersey was a site often visited by Walt Whitman, who developed a close friendship with the Stafford family, after the Civil War. As chronicled in his book of essays, Specimen Days and Collect, Walt spent many happy summer and early autumn days at the Laurel Springs homestead, which provided him a respite from the excitement and cacophony of living on a loud and bustling street in Camden.
THERE IS NO ENTRANCE FEE FOR THE FESTIVAL.
TROLLEY STOPS:
-Whitman Stafford Farmhouse – Visual Arts
-Crystal Springs – Literary Arts
-Recreation Center-Indie Film Artistry of Mad Shelley Films
-Downtown Train Station will be open for visitation and information, with nearby parking and lunch spots.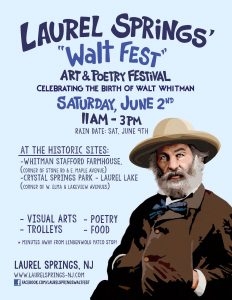 _______________