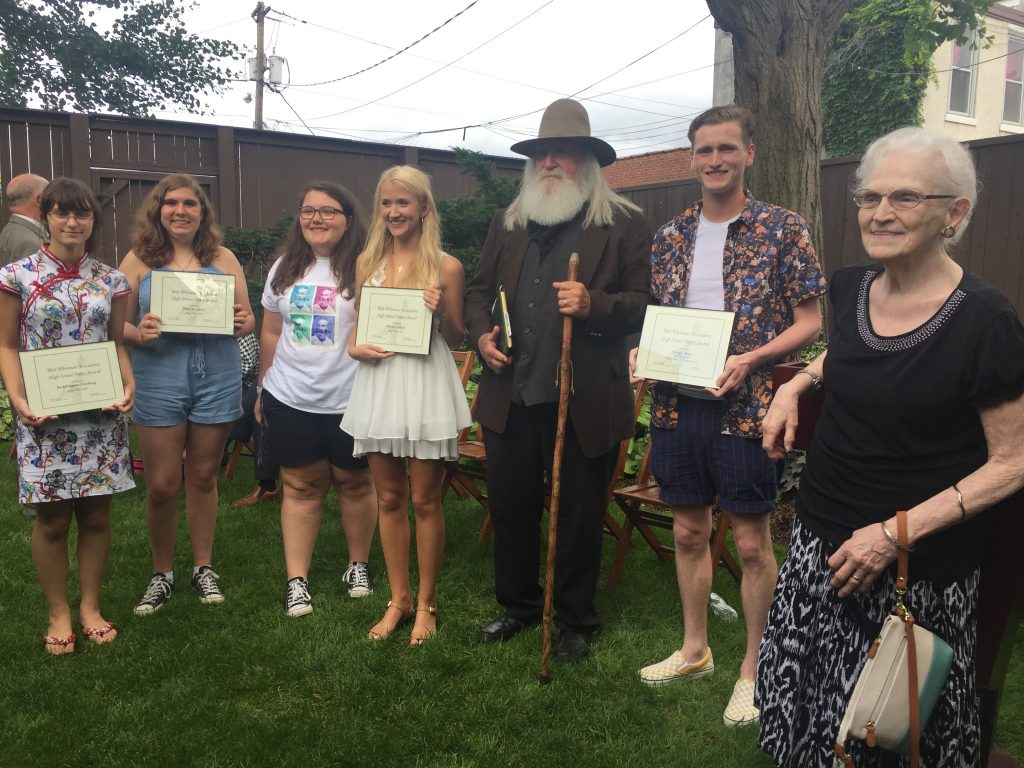 The winners of this years poetry contest with Walt (portrayed by Darrel B. Ford) and Gloria Stridick.
On the eve of Walt Whitman's 199th birthday, a group of Camden locals and Whitman enthusiasts gathered in the garden at 328 Mickle Street to celebrate poetry, Camden's future, and the legacy of the Good Grey Poet. The annual tradition, which has been carried on since the days when Walt Whitman still resided at his Mickle Street home, was honored this year with notable guests, cake and punch, and the reading of poetry both old and new.
This year's guest speaker was the honorable Mayor of Camden, Francisco "Frank" Moran. Mayor Moran delivered an address highlighting the importance of Whitman's time in Camden. He spoke of how the city, still growing, continues to take pride in Whitman's life in the city even 140 years after his passing. Moran emphasized the importance of the preservation of the Whitman house and his gravesite, explaining how vital the historical site has been to the city since its opening in 1920. The site, he pointed out, puts the city of Camden on the map as both a regional and global destination for both residents and visitors of Camden.
Turning to the High School Poetry Contest, the Mayor praised the annual tradition for creating a hopeful environment for the youth of the city. Camden's future success is dependent on the success of its youth, and Moran lauded the poetry contest for "brings out the best in our youth," and the poets' "bright minds and creativity" for bringing out the best in our city.
As he wrapped up his keynote address, the Mayor presented the Walt Whitman House with a proclamation of the celebration of Whitman's 199th birthday. In return, the Walt Whitman Association presented him with a copy of the first edition of Leaves of Grass. "In the spirit of summer," he said with a grin, "I'm gonna read this down the shore."
Once again, the Whitman House was lucky to have Whitman impersonator Darrel Ford in attendance to recite some verses from Leaves of Grass. Another familiar face in the crowd was Camden's own Father Michael Doyle, who joined visitors for a tour of the house after the poetry reading. Gloria M. Stridick, the mother of Bernadette Stridick and widow of the late Walter Stridick, was also in the crowd to enjoy the work of this years' contest winners. Gloria and Darryl graciously posed with the teen poets, who were also presented with a copy of the first edition of Leaves of Grass.
The theme for the poetry contest this year was Looking to the Future. The contest winners, many of which are on the cusp of major changes and shifts in their lives, confronted their own futures through carefully parsed verse and vivid storytelling. In the spirit of Walt, they confronted topics both large and small, from the act of leaving home for the first time to the annual changing of the seasons. Their works can be found on the site and are listed below:
A Steady Spinning Star, Alexis Szkotak, Grade 12, Haddonfield Memorial High School
To Remember the Beginning, Julie Munafo, Grade 12, Haddonfield Memorial High School
One Last Look, Emma Hodges, Grade 12, Haddonfield Memorial High School
Renaissance, Ilana Arougheti, Grade 11, Cherry Hill High School East
Snow and Narcissus,  Rachel Agosto-Ginsburg, Grade 9, Cherry Hill High School East
Peach Pits and Prosperity, Joseph Tozzi, Grade 12, Cherry Hill High School West