Upcoming Events
Walt Whitman Birthday Celebration
Please note: Due to the COVID 19 Pandemic, we will not be gathering this year in the garden at the Walt Whitman House. We will, however, continue to commemorate Walt's 201 birthday with our annual high school poetry contest.  We are also asking all friends and admirers of Walt Whitman and his works to take a moment, read a favorite poem or two or celebrate the whole day on May 31st in recognition of all that is good and the continuing inspiration that is the Legacy of Walt Whitman. 
---
Come join us on May 27th at 5:00 pm us as we celebrate Walt Whitman's 201stth birthday.  We'll be gathering at the historic home and garden of the poet at 328 Mickle/Martin Luther King Jr. Boulevard. Our guest speaker this year will be the distinguished Poet and Rutgers University Professor Gregory Pardlo.
Gregory Pardlo's ​collection​ Digest (Four Way Books) won the 2015 Pulitzer Prize for Poetry. Other honors​ include fellowships from the Guggenheim Foundation, the New York Foundation for the Arts, and the National Endowment for the Arts for translation; his first collection Totem won the APR/Honickman Prize in 2007. He is Poetry Editor of Virginia Quarterly Review and Director of the MFA program at Rutgers University-Camden. His most recent book is Air Traffic, a memoir in essays.
There will also be readings from the winners of the Walt Whitman Association's Annual High School Poetry Contest.  This year's theme, "Truth" asks students to consider their personal truths and the state of truth in their communities, their nation, and the world.
For more information about the event, please call (856) 964-5383
Walt Whitman House Legacy Tours – Camden County History Month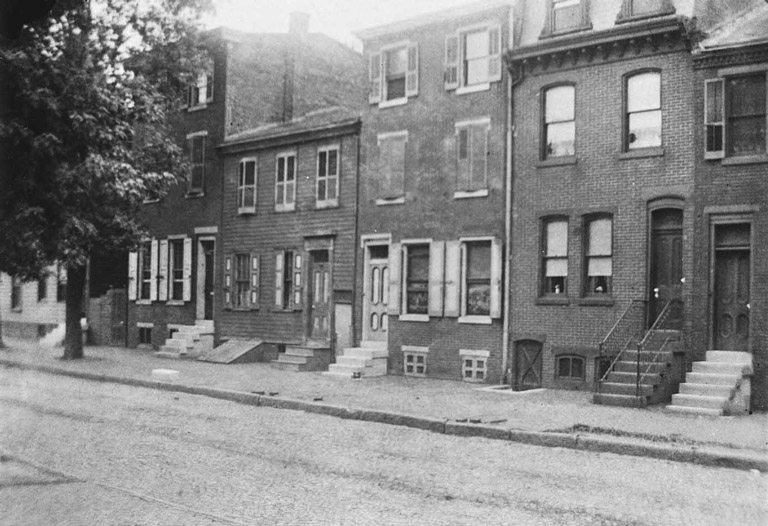 Whitman's House on Mickle Street, Camden, NJ, circa 1890. Library of Congress
October 5th, 19th, 26th, at 10am.
For Camden County History Month, the Walt Whitman House Historic Site will be hosting special "Legacy" tours that focus on the work that Whitman created while living in Camden, as well as the history of Camden in relation to the historic site. The tours will explore his diary jottings in Specimen Days and his ruminations on the growth of America in With Walt Whitman in Camden by his biographer Horace Traubel. The compilation volume Specimen Days and Collect was assembled during his time in Camden, and illustrates Whitman's experiences and opinions of his life's work.
These special tours will be by appointment only, and we expect them to fill up quickly so we encourage those interested to call ahead to secure a spot on the tours. Tours will be held from 10:00am – 11:30am. Reservations can be made by calling(856) 964-5383.