Upcoming Events
Democratic Vistas: Whitman Body and Soul
May 29, 2019 through December 7, 2019
Rutgers Camden will be hosting "Democratic Vistas: Whitman Body and Soul," a survey of contemporary art relating to the life and work of Walt Whitman. The exhibition will include work by a variety of artists from all over the country, including sculptor John Giannotti and glass artist Paul Stankard, reflecting on his view of a changing America and dreams for an egalitarian society. The opening of the exhibition and the annual birthday celebration will take place on May 29th at 5pm at the Rutgers Stedman gallery. We hope to see you all there!
Walt Whitman House Legacy Tours – Camden County History Month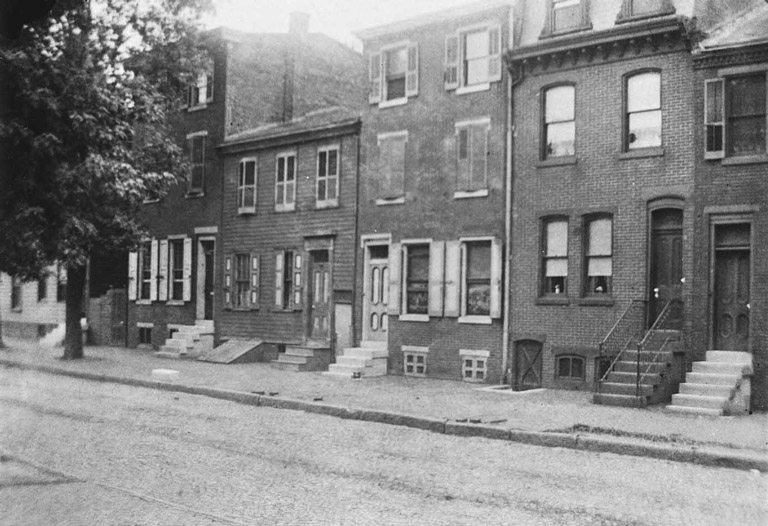 Whitman's House on Mickle Street, Camden, NJ, circa 1890. Library of Congress
October 5th, 19th, 26th, at 10am.
For Camden County History Month, the Walt Whitman House Historic Site will be hosting special "Legacy" tours that focus on the work that Whitman created while living in Camden, as well as the history of Camden in relation to the historic site. The tours will explore his diary jottings in Specimen Days and his ruminations on the growth of America in With Walt Whitman in Camden by his biographer Horace Traubel. The compilation volume Specimen Days and Collect was assembled during his time in Camden, and illustrates Whitman's experiences and opinions of his life's work.
These special tours will be by appointment only, and we expect them to fill up quickly so we encourage those interested to call ahead to secure a spot on the tours. Tours will be held from 10:00am – 11:30am. Reservations can be made by calling(856) 964-5383.