Past Events
2017
125th Anniversary Remembrance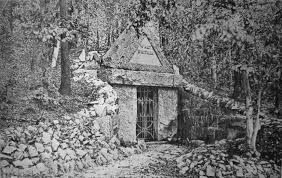 March 26, 2017 at 2:00 pm.  Location: Harleigh Cemetary, 1640 Haddon Ave, Camden, NJ 08103. Walt Whitman's Tomb.
It's hard to believe that Walt Whitman passed away 125 years ago on this date yet his legacy lives on in the hearts and minds of many!  All are welcome to come together to commemorate this nostalgic event with a special gathering led by long-time Camden poet and Whitman enthusiast, Rocky Wilson.  Feel free to bring your favorite Whitman poem along to share!
Birthday Celebration 2017
Come join us on May 23rd at 5:00 pm as we celebrate Walt Whitman's 198th birthday.  We'll be gathering at the historic home and garden of the poet at 328 Mickle Boulevard. The house will be open for tours, and the garden will be open for a reception, cake, and other goodies. This year's keynote speaker will be distinguished Philadelphia author, poet and journalist, Thom Nickels. Mr. Nickels has written eleven books and his poetry has been published in various collections (Check out this review of his book, Literary Philadelphia). He is the City Beat editor at ICON magazine and contributes regularly to the Huffington Post, Philadelphia Inquirer, Philadelphia City Paper, Philadelphia Daily News and Philadelphia's Spirit newspapers. He was nominated for a Lambda Literary Award and received the Philadelphia AIA Lewis Mumford Award for Architectural Journalism in 2005. There will also be readings from the winners of the Walt Whitman Association's Annual High School Poetry Contest.  The theme this year is "The Open Road."
*Please note: Due to possible rain in the forecast, seating for the event may be limited.
No admission charge.  Donations accepted.  No RSVP required. For more information about this time-honored event call: (856) 964-5383