Whitman at 200 – Celebrating the Bicentennial of the Good Gray Poet
The Walt Whitman House Historic Site and the Walt Whitman Association are proud to announce that preparations are underway for the celebration of Walt Whitman's 200th birthday! We will be working in conjunction with Rutgers University, Camden County Historical Society, and The Whitman-Stafford House to create programming surrounding Whitman's life in Camden and the legacy he created while living in the house at 328 Mickle Street.
The Whitman House will be hosting events and special tours that focus on the work that Whitman created while living in Camden, as well as the history of Camden in relation to the historic site. We will also be hosting the celebration of Whitman's 200th year on the Camden Campus of Rutgers University in May.
Rutgers Camden will be hosting "Democratic Vistas: Whitman Body and Soul," a survey of contemporary art relating to the life and work of Walt Whitman. The exhibition will include work by a variety of artists from all over the country, reflecting on his view of a changing America and dreams for an egalitarian society. The opening of the exhibition and the annual birthday celebration will take place on May 29th at 5pm at the Rutgers Stedman gallery. We hope to see you all there!
Additionally, we are partnering with various organizations in Philadelphia and New York, including The University of Pennsylvania and the Walt Whitman Initiative in New York City. You can find out more about these programs at Whitman at 200 and Walt Whitman Initiative.
As we get closer to the 200th year, we will be updating this page with information on programming, special tours, and birthday events so stay tuned!
Walt Whitman in the Civil War
On Monday April 1, 2019 there will be a special presentation by Joseph F. Wilson on Walt Whitman and his experiences during the Civil War. Though never participating in combat, Whitman contributed greatly to the war effort through his time visiting war hospitals and caring for wounded soldiers. Please join us to learn more about Whitman and the time he spent with the soldiers, and how both Whitman and the soldiers' lives changed through his contributions. The presentation will begin at 7pm in the Civic Center at Camden County Community College in Blackwood, NJ. There is no cost for this event, and we hope to see you there!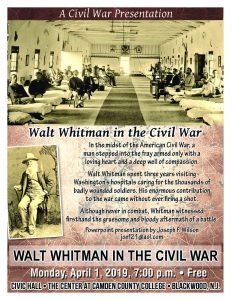 How Sweet the Silent Backward Tracings! Preserving the Memory of America's Good Gray Poet Through Materials, Meetings, and More
Special Exhibit by the Mid-Atlantic Regional Center for the Humanities
Wednesday, May 1, 2019 through Saturday, July 13, 2019
The Memory of Walt Whitman lives on in the 21st century through various venues: annual celebrations, living history actors, academic journals, sculptures in his likeness, and more.  This exhibition, in conjunction with the 200th anniversary of Walt Whitman's birth, will examine the events, publications, artworks, and other forms of media through which the memory of the Good Gray Poet is immortalized – many of which take place right here in Camden.
Paul Robeson Library, Rutgers University-Camden at 300 North 4th Street, Camden, NJ
---
Celebrating Whitman's Legacy – The 199th Birthday 
The Walt Whitman Association has been celebrating the life and legacy of the great poet, Walt Whitman for over 120 years with an annual birthday party in May at his home on Mickle Street (today's Mickle/Martin Luther King Jr. Boulevard). This year's celebration was held at the Walt Whitman House on May 30th at 5 pm, and featured the winners of the Walt Whitman Association's Annual High School Poetry Contest, who recited their winning entries. The theme for this year's Poetry Contest is "Looking to the Future." Students were invited to look forward, imagining a future that may pertain to themselves, their community, our nation, and/or humanity as a whole. Students were encouraged to review Whitman's musings on our shared humanity and future generations, including poems such as "Crossing Brooklyn Ferry," "Poems to Come," and "Song of Myself."
Our guest speaker this year was Camden City Mayor Francisco "Frank" Moran, who presented the Whitman House with a Proclamation of the 199th birthday from the City of Camden. It's an exciting time in Camden-thank you for coming out to celebrate Walt!
For more information on the celebration and the poetry contest, please visit our Poetry Contest page.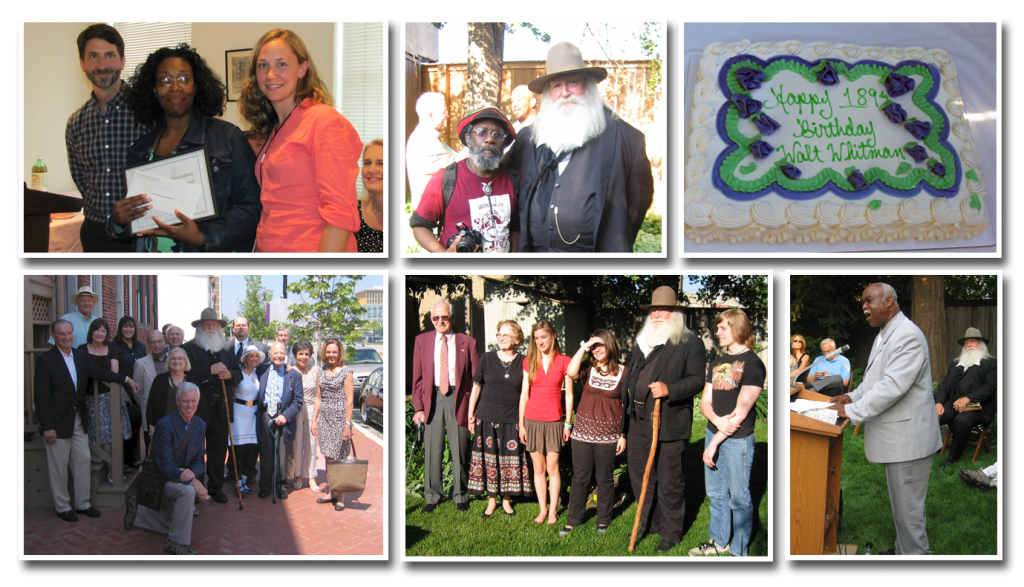 "WaltFEST" at Laurel Springs
Laurel Springs' Walt Whitman Festival, Saturday, June 2, 2018, 11 am – 3 pm.
Rain date –June 9, 2018.
Come experience where the Good Gray Poet wandered the banks of his beloved Timber Creek and enjoy the beauty of Laurel Springs!
The Stafford Farmhouse in Laurel Springs, New Jersey was a site often visited by Walt Whitman, who developed a close friendship with the Stafford family, after the Civil War. As chronicled in his book of essays, Specimen Days and Collect, Walt spent many happy summer and early autumn days at the Laurel Springs homestead, which provided him a respite from the excitement and cacophony of living on a loud and bustling street in Camden.
THERE IS NO ENTRANCE FEE FOR THE FESTIVAL.
TROLLEY STOPS:
-Whitman Stafford Farmhouse – Visual Arts
-Crystal Springs – Literary Arts
-Recreation Center-Indie Film Artistry of Mad Shelley Films
-Downtown Train Station will be open for visitation and information, with nearby parking and lunch spots.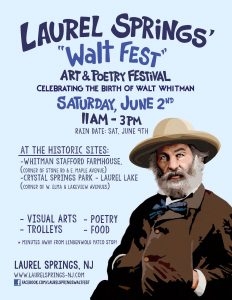 _______________