Celebrating Whitman's Legacy – The 199th Birthday 
The Walt Whitman Association has been celebrating the life and legacy of the great poet, Walt Whitman for over 120 years with an annual birthday party in May at his home on Mickle Street (today's Mickle/Martin Luther King Jr. Boulevard). This year's celebration was held at the Walt Whitman House on May 30th at 5 pm, and featured the winners of the Walt Whitman Association's Annual High School Poetry Contest, who recited their winning entries. The theme for this year's Poetry Contest is "Looking to the Future." Students were invited to look forward, imagining a future that may pertain to themselves, their community, our nation, and/or humanity as a whole. Students were encouraged to review Whitman's musings on our shared humanity and future generations, including poems such as "Crossing Brooklyn Ferry," "Poems to Come," and "Song of Myself."
Our guest speaker this year was Camden City Mayor Francisco "Frank" Moran, who presented the Whitman House with a Proclamation of the 199th birthday from the City of Camden. It's an exciting time in Camden-thank you for coming out to celebrate Walt!
For more information on the celebration and the poetry contest, please visit our Poetry Contest page.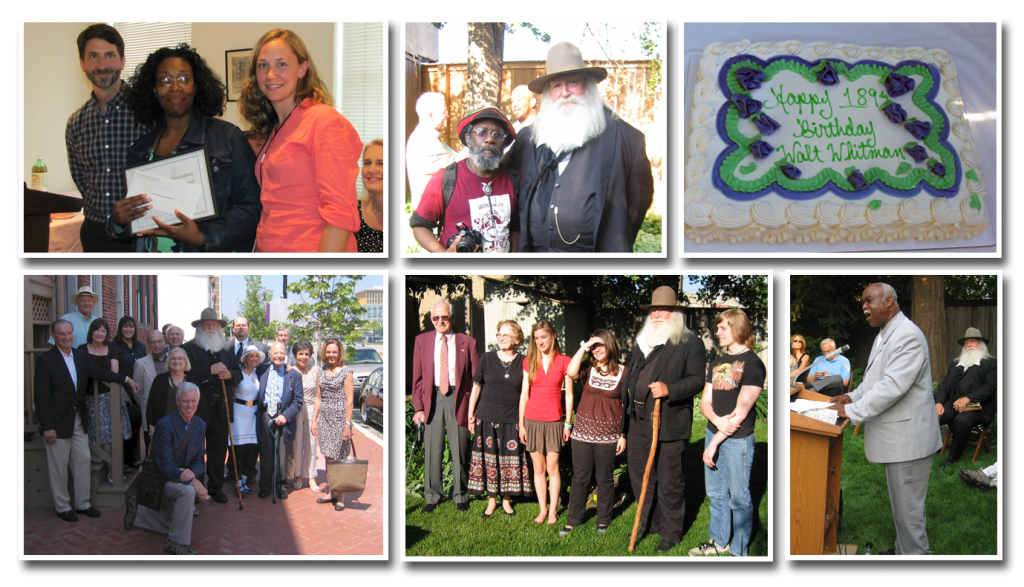 "WaltFEST" at Laurel Springs
Laurel Springs' Walt Whitman Festival, Saturday, June 2, 2018, 11 am – 3 pm.
Rain date –June 9, 2018.
Come experience where the Good Gray Poet wandered the banks of his beloved Timber Creek and enjoy the beauty of Laurel Springs!
The Stafford Farmhouse in Laurel Springs, New Jersey was a site often visited by Walt Whitman, who developed a close friendship with the Stafford family, after the Civil War. As chronicled in his book of essays, Specimen Days and Collect, Walt spent many happy summer and early autumn days at the Laurel Springs homestead, which provided him a respite from the excitement and cacophony of living on a loud and bustling street in Camden.
THERE IS NO ENTRANCE FEE FOR THE FESTIVAL.
TROLLEY STOPS:
-Whitman Stafford Farmhouse – Visual Arts
-Crystal Springs – Literary Arts
-Recreation Center-Indie Film Artistry of Mad Shelley Films
-Downtown Train Station will be open for visitation and information, with nearby parking and lunch spots.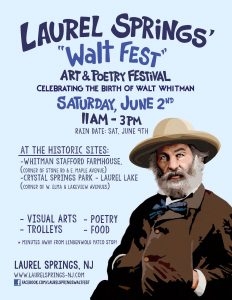 _______________