Celebrating Whitman's Legacy – The 199th Birthday 
The Walt Whitman Association has been celebrating the life and legacy of the great poet, Walt Whitman for over 120 years with an annual birthday party in May at his home on Mickle Street (today's Mickle/Martin Luther King Jr. Boulevard). This year's celebration will be held at the Walt Whitman House on May 30th at 5 pm, and will feature  the winners of the Walt Whitman Association's Annual High School Poetry Contest, who will recite their winning entries. The theme for this year's Poetry Contest is "Looking to the Future." Students are invited to look forward, imagining a future that may pertain to themselves, their community, our nation, and/or humanity as a whole. Students are encouraged to review Whitman's musings on our shared humanity and future generations, including poems such as "Crossing Brooklyn Ferry," "Poems to Come," and "Song of Myself."
For more information on the celebration and the poetry contest, please visit our Poetry Contest page.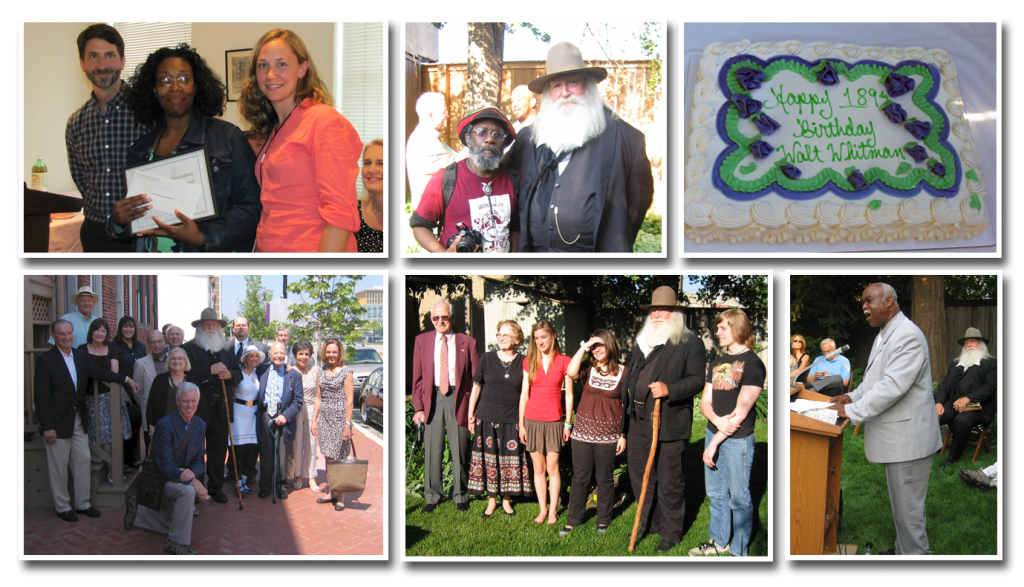 "WaltFEST" at Laurel Springs
Laurel Springs' Walt Whitman Festival, Saturday, June 2, 2018, 11 am – 3 pm.
Rain date –June 9, 2018.
Come experience where the Good Gray Poet wandered the banks of his beloved Timber Creek and enjoy the beauty of Laurel Springs!
The Stafford Farmhouse in Laurel Springs, New Jersey was a site often visited by Walt Whitman, who developed a close friendship with the Stafford family, after the Civil War. As chronicled in his book of essays, Specimen Days and Collect, Walt spent many happy summer and early autumn days at the Laurel Springs homestead, which provided him a respite from the excitement and cacophony of living on a loud and bustling street in Camden.
THERE IS NO ENTRANCE FEE FOR THE FESTIVAL.
TROLLEY STOPS:
-Whitman Stafford Farmhouse – Visual Arts
-Crystal Springs – Literary Arts
-Recreation Center-Indie Film Artistry of Mad Shelley Films
-Downtown Train Station will be open for visitation and information, with nearby parking and lunch spots.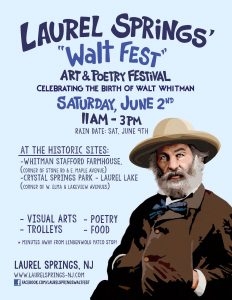 _______________
Past Events
125th Anniversary Remembrance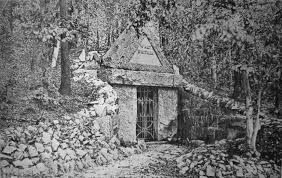 March 26, 2017 at 2:00 pm.  Location: Harleigh Cemetary, 1640 Haddon Ave, Camden, NJ 08103. Walt Whitman's Tomb.
It's hard to believe that Walt Whitman passed away 125 years ago on this date yet his legacy lives on in the hearts and minds of many!  All are welcome to come together to commemorate this nostalgic event with a special gathering led by long-time Camden poet and Whitman enthusiast, Rocky Wilson.  Feel free to bring your favorite Whitman poem along to share!
Birthday Celebration 2017
Come join us on May 23rd at 5:00 pm as we celebrate Walt Whitman's 198th birthday.  We'll be gathering at the historic home and garden of the poet at 328 Mickle Boulevard. The house will be open for tours, and the garden will be open for a reception, cake, and other goodies. This year's keynote speaker will be distinguished Philadelphia author, poet and journalist, Thom Nickels. Mr. Nickels has written eleven books and his poetry has been published in various collections (Check out this review of his book, Literary Philadelphia). He is the City Beat editor at ICON magazine and contributes regularly to the Huffington Post, Philadelphia Inquirer, Philadelphia City Paper, Philadelphia Daily News and Philadelphia's Spirit newspapers. He was nominated for a Lambda Literary Award and received the Philadelphia AIA Lewis Mumford Award for Architectural Journalism in 2005. There will also be readings from the winners of the Walt Whitman Association's Annual High School Poetry Contest.  The theme this year is "The Open Road."
*Please note: Due to possible rain in the forecast, seating for the event may be limited.
No admission charge.  Donations accepted.  No RSVP required. For more information about this time-honored event call: (856) 964-5383